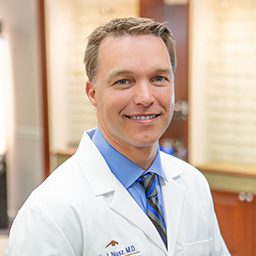 Office Hours
| | |
| --- | --- |
| Monday | 8:00am – 5:00pm |
| Tuesday | 8:00am – 5:00pm |
| Wednesday | 8:00am – 5:00pm |
| Thursday | 8:00am – 5:00pm |
| Friday | 8:00am – 5:00pm |
| Saturday | Closed |
| Sunday | Closed |
Optical Hours
| | |
| --- | --- |
| Monday | 8:00am – 5:00pm |
| Tuesday | 8:00am – 5:00pm |
| Wednesday | 8:00am – 5:00pm |
| Thursday | 8:00am – 5:00pm |
| Friday | 8:00am – 5:00pm |
| Saturday | Closed |
| Sunday | Closed |
BS: State University of New York at Buffalo (Summa Cum Laude)
MD: Johns Hopkins University School of Medicine
Residency: Mayo Clinic Department of Ophthalmology
---
Dr. Kevin Nusz is a board-certified ophthalmologist specializing in refractive cataract surgery, laser vision correction and oculoplastics.
After graduating Summa Cum Laude with a degree in Biochemistry from SUNY at Buffalo, Dr. Nusz earned his medical degree from Johns Hopkins School of Medicine. He then completed his training in eye surgery at the Mayo Clinic. Prior to joining The Eye & Laser Center, Dr. Nusz was director of a national eye surgery center in New York.
Training at the world's top medical institutions has given Dr. Nusz unparalleled medical knowledge. Also, he shows great compassion by committing every day he works to doing all he can to help each of his patients see as well as possible.
Dr. Nusz is committed to finding and providing the best and most advanced surgical eye care options to his patients. He was the first surgeon in the Charlotte region, and one of the first in the nation, to implant the Symfony® lens. Today, in less than 2 years, Symfony® has become the most commonly used advanced technology intraocular lenses in the United States.
Dr. Nusz was also the first surgeon to use the CATALYS® cataract surgery laser at The Surgery Center at Edgewater. Other lasers are used for cataract surgery, but the CATALYS® Precision Laser System is the only laser in the Charlotte region designed for cataract surgery, providing patients a gentle, accurate customized treatment.
Completing thousands of successful vision enhancing surgeries, Dr. Nusz has been a surgeon at The Eye & Laser Center since 2007. Dr. Nusz stays current in his practice by being an active member of the American Academy of Ophthalmology, American Society of Cataract and Refractive Surgery, South Carolina Medical Associations, and the South Carolina Society of Ophthalmology.
Outside of medicine, Dr. Nusz enjoys spending time with his family, exercising, and traveling. Dr. Nusz and his family happily reside in Lancaster County, which is where they also attend church.