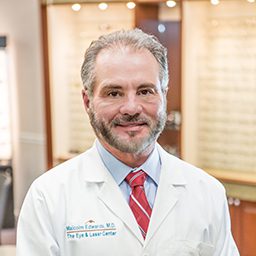 Office Hours
| | |
| --- | --- |
| Monday | 8:00am – 5:00pm |
| Tuesday | 8:00am – 5:00pm |
| Wednesday | 8:00am – 5:00pm |
| Thursday | 8:00am – 5:00pm |
| Friday | 8:00am – 5:00pm |
| Saturday | Closed |
| Sunday | Closed |
Optical Hours
| | |
| --- | --- |
| Monday | 8:00am – 5:00pm |
| Tuesday | 8:00am – 5:00pm |
| Wednesday | 8:00am – 5:00pm |
| Thursday | 8:00am – 5:00pm |
| Friday | 8:00am – 5:00pm |
| Saturday | Closed |
| Sunday | Closed |
BS: Biology, University of South Carolina
MD: University of South Carolina School of Medicine, Columbia (Magna Cum Laude)
Residency: Ophthalmology, Emory University, Atlanta, Georgia. Chief Resident Ophthalmology, Emory University
---
Malcolm Edwards, M.D., grew up in Lancaster, South Carolina. After Graduating Magna Cum Laude with a degree in Biology from the University of South Carolina. Dr. Edwards earned his medical degree from the University of South Carolina School of Medicine. He then completed his training in eye surgery at Emory University. Before helping to build what has become The Eye & Laser Center, Dr. Edwards was Chief Resident of Ophthalmology, at Emory University.
Lancaster has always been home to him and holds some of his most cherished memories. Therefore, he knew he wanted to practice medicine here. He wanted to be able to give back to the community that had already given so much to him in friendship and support. But growing up in a small town has not limited his desire to travel and teach. He has had the pleasure of lecturing in Europe as well as in the USA. Dr. Edward believes that teaching and learning go hand in hand.
Dr. Edwards joined The Lancaster Eye Clinic in 1988 and helped found what has become The Eye and Laser Center. Dr. Edwards stays current with his practice by being an active member of the Academy of Ophthalmology, South Carolina Medical Associations, and a member and past president of the South Carolina Society of Ophthalmology.
Outside of medicine, Dr. Edwards enjoys spending time with his family, especially his four grandchildren. He and his wife Sandra spend much of their free time on Lake Wateree with the family, enjoying boating and skiing.