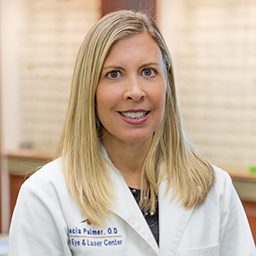 Office Hours
| | |
| --- | --- |
| Monday | 8:00am – 5:00pm |
| Tuesday | 8:00am – 5:00pm |
| Wednesday | 8:00am – 5:00pm |
| Thursday | 8:00am – 5:00pm |
| Friday | 8:00am – 5:00pm |
| Saturday | Closed |
| Sunday | Closed |
Optical Hours
| | |
| --- | --- |
| Monday | 8:00am – 5:00pm |
| Tuesday | 8:00am – 5:00pm |
| Wednesday | 8:00am – 5:00pm |
| Thursday | 8:00am – 5:00pm |
| Friday | 8:00am – 5:00pm |
| Saturday | Closed |
| Sunday | Closed |
BS: Bachelor of Science, Indiana University, Bloomington, Indiana
OD: School of Optometry, Indiana University, Bloomington, Indiana
---
Dr. Alecia Palmer became interested in Optometry after receiving her first pair of glasses at 7 years old and began a lifelong journey of vision care. Growing up, with her optometrist being female, she realized that this was a great profession for balancing a family and career. She was born in Marshalltown, Iowa and relocated with her family to Cleveland, Ohio in 6th grade. She graduated from Solon High School in the class of 1991 and continued her education at Indiana University. After three years at Indiana University and obtaining a Bachelor of Science degree, she was awarded early acceptance to the School of Optometry at Indiana University. Upon graduation in 1998, Dr. Palmer decided to return to the Cleveland area to practice. Dr. Palmer worked in a busy, multi-location private practice on the east side of the city. While having a busy practice, she also participated in multiple clinical studies as a sub-investigator and was an adjunct assistant clinical professor for Pacific University College of Optometry. After spending 20 years of her professional life in Cleveland, she relocated to Charlotte area to enjoy the sun, mild weather and southern way of life.
Dr. Palmer joined The Eye and Laser Center in April 2018 and is currently seeing patients at both the Wylie Street and Colonial Commons office locations. Dr. Palmer's clinical experience includes comprehensive eye exams with emphasis on eye health, cataract evaluations, contact lens fittings, pediatric examinations, ocular disease diagnosis and management, dry eye disease, and surgical co-management. She looks forward to meeting all your vision needs.
Outside of optometry, Dr. Palmer loves spending quality time with her husband and three school-aged children. She also enjoys traveling, golfing, skiing, and especially boating on Lake Wylie.